Current Issue
Vol. 1 No. 4 (2020)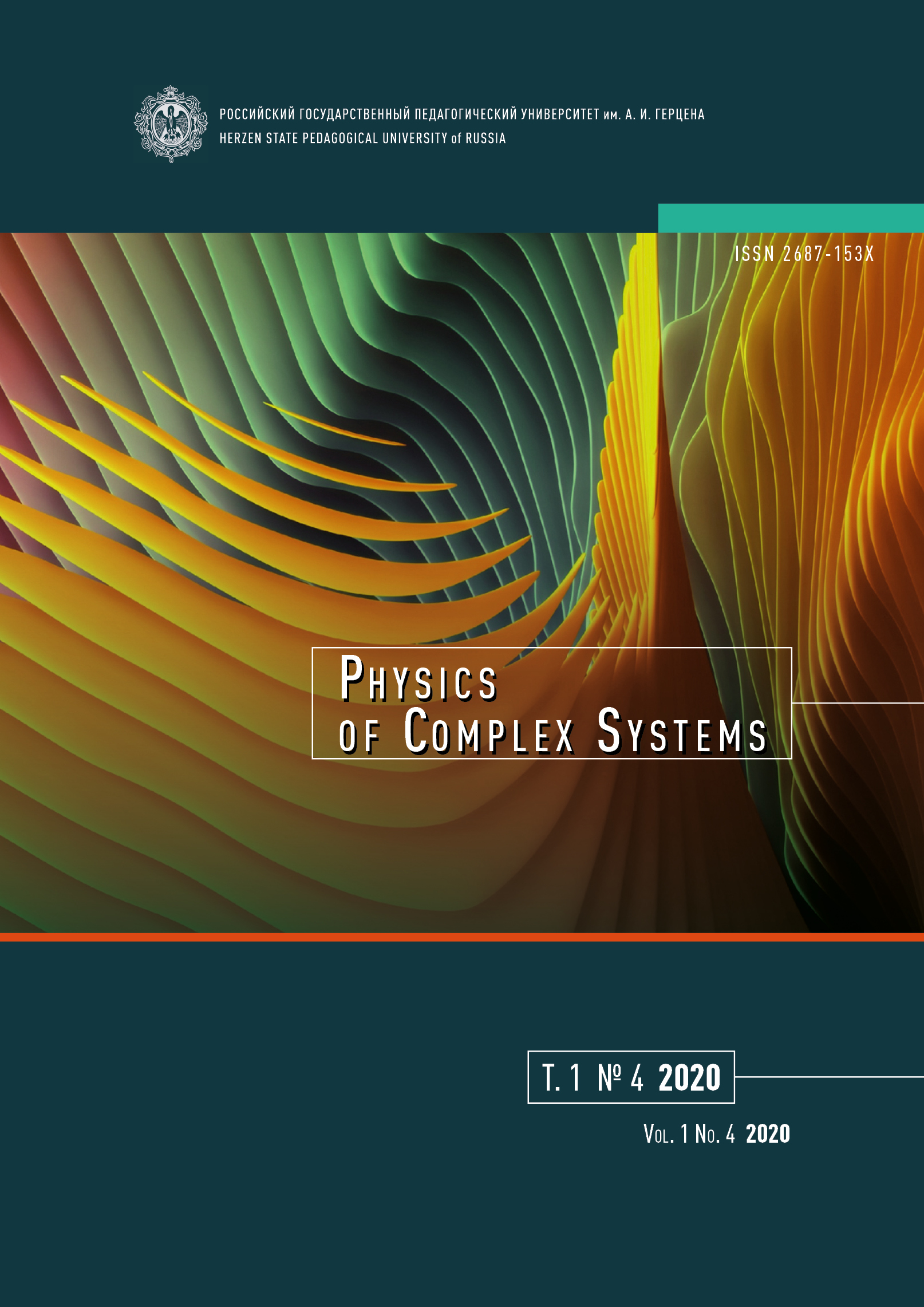 Editors of the English text I. A. Nagovitsyna, M. V. Bumakova
Cover design by O. V. Rudneva
Layout by A. M. Khodan, L. N. Kliuchanskaya
Full Issue
View All Issues
Physics of Complex Systems is a scientific journal that was established by Herzen State Pedagogical University of Russia in 2020. The name of the journal reflects the complexity of topics studied by modern physics, from nanosized quantum dots to the infinite Universe.
Our journal aims to promote scientific advances made by lecturers, research fellows, doctoral, master's and undergraduate students, and provide a platform for sharing research results among colleagues. We welcome papers on both theoretical and experimental research in various fields of physics: from metals and insulators to nanosized objects and cosmology.
The journal has the following main sections:
Quantum Mechanics;
Quantum Field Theory;
Atomic and Molecular Physics;
Elementary Particle Physics;
General Relativity and Gravity;
Cosmology;
Quantum Gravity;
Semiconductor Physics;
Semimetal Physics;
Dielectric Physics;
Polymer Physics;
Physics of Random Structures;
Physics of Low-Dimensional Structures and Nanostructures;
Physics of Transport Phenomena in Condensed Matter;
Physics of Thermoelectric Phenomena;
Physical Properties of Thermoelectric Materials;
Interaction of Electromagnetic and Particle Radiation with Condensed Matter;
Non-Equilibrium Phenomena and Self-Organisation in Condensed Matter;
Photonics and Laser Physics;
Computational Materials Science;
Recent directions in Solid State Physics.
Physics of Complex Systems is an international peer-reviewed open access journal. The expertise of our Russian and foreign Editorial Board members guarantees a high level of publications.
Modern research is international in nature and impossible without quick and easy access to information, both throughout Russia and in the global scientific community. With that in mind, we publish papers in the universal language of science, i.e. in English. The full version of our journal is available for download online.
As we said before, the main aim of our journal is to establish a framework for scientific cooperation among lecturers and university students. Nevertheless, we welcome articles by all members of the scientific community, regardless of their affiliation, as well as papers written by international teams. Our Editorial Board would like to specifically encourage submissions by young lecturers, researchers, and doctoral, master's and undergraduate students, who are set to become future leaders in science, technology and management.
The journal is published quarterly and distributed online. The official publisher of the journal is the Herzen State Pedagogical University of Russia. The official address of the publisher: 48 Moika River Emb., Saint Petersburg 191186, Russia.
We do not charge any submission or publication fees.